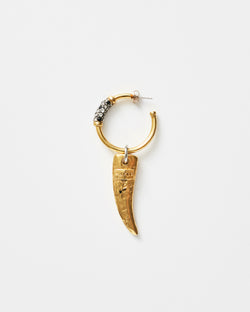 T.E.R. Hoops Plus One
Pair of the medium T.E.R. Hoops accompanied by one of the Petite Horns. A second is available for the wearer who likes things symmetrical. 18K gold plated brass with polka dotted jet and crystal rhinestone inlay. 1 3/4" in diameter. Horn drops down 1.5".
 
Many of our pieces are made to order. Shipping times can be up to 4 weeks, depending on style and colorway. Please enquire if you would like something by a certain date.